Today my sweet little peanut is ONE! This year has flown by and I can hardly believe it. I am truly blessed with fantastic girls in my life. I couldn't ask for a better, more happy go lucky baby.
I have been having a very rough time with coming to grips with Belle turning one. (Which is odd because I never felt like this with Em.) I feel like it isn't time for her to be a year old yet. She is my tiny girl, still wearing 6 month clothes. I am waiting for her to take off running across the room, I have a feeling that she is waiting until she has walking perfected to show off for me. I have gotten a couple steps out of her, but nothing crazy yet.
One year ago, I was 50 inches around and waddling into the hospital. A bouncing 8 pound 8 ounce baby girl was born. She was a mommy's girl from moment one. I will never forget the look on Emma's face when she met "her" baby for the first time. Or the proud grandparents as they held the new addition to the family. Or even the way Rob interacted with his new daughter.
Now, that bouncing baby is on the verge of toddlerhood and terrorizing her sister and the cats. I couldn't be happier.
It is hard for me to believe that one year ago today, I looked like this:


and only hours after that picture was taken, I had this: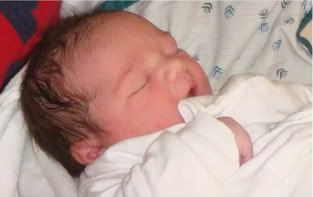 That tiny (OK not tiny... 8 pounds 8 ounces tiny) little baby was growing up before my eyes.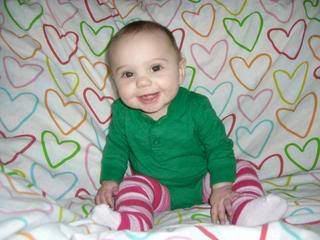 Now, I have a vibrant, beautiful sweet girl.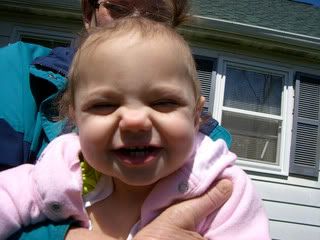 Happy Birthday sweet Arabel!